MIRROR IMAGES PRODUCTS

BLU-CHIP-(Blue) For metals (Milled Aluminum, Chrome, Mag Wheels, and other metal surfaces) and Fiberglass. Removes heavy oxidation on Fiberglass and paint without compounding. The easiest metal polish ever, Guaranteed! Contains acrylic sealer so you can expect the shine to stay on for months. For best results on Fiberglass, use buffer or orbiter. For long lasting finish use BLU-CHIP. DO NOT USE ON WEAK CHROME. Available: Qts.,Pts., 8 oz.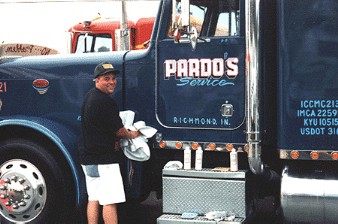 BODY CREAM-(Yellow) Absolutely the finest for showroom finish. The greatest cleaning wax available to the consumer. Long lasting effect. Protects from ultra-violet rays. Easily used by hand or machine. Leaves Mirror-like finish on all painted surfaces. Safe for ALL Clear Coats, Imported, and American paints. As with all our products, Its American Made. Available in 8oz, Qts. and Pts.
FINAL TOUCH A liquid glaze product containing NO Abrasives or Silicones, giving superior depth and a swirl free finish to a clean, non-oxidized surface. Primarily formulated and suggested for '95 an up model cars with a clear coat paint. A product resulting from many years of research, utilizing the finest polymers and natural additives. FINAL TOUCH provides a bonding shield to painted surfaces, protecting from natures harsh elements and producing a lasting MIRROR IMAGE-like shine. For best results, clean painted surface, then apply FINAL TOUCH and allow to set for 10 to 20 mins. Take off by hand or machine. Available: 8oz, Qts. and Pts.
SPEEDY VINYL-(clear blue) Vinyl Dressing of the highest caliber. Just spray it on your tires and walk away. It will clean and dry evenly without that phony, dirt attracting, shine that others have and will stay on the vehicle for weeks. NOT for use in body shops, Sorry gang, This stuff has some silicone. For dashboards, We recommend dampening a towel with speedy and manually applying it to avoid getting it on the windshield. Available: 8oz, Pints, Quarts.
MAGIC CUTTER-(Pink) A cutting cream of the finest caliber with a unique pink color. It is designed to go over paints to remove overspray, sap, haze, and Heavy Oxidation. MAGIC CUTTER works great on fiberglass too! Primarily for use with a buffer and professional use. This product has NO WAX, OR SILICONES, Perfect for fresh paint. Will not harm good paint. Available in 8oz, Qts. and Pts.
MAGIC BUFF

A buffing compound made from PURE jewelers rouge, FORMULATED FOR MACHINE OPERATION. Use a Spiral sewn buff for coarse buffing and a Canton flannel buff for final shine. MAGIC BUFF is used on ferrous and non-ferrous metals leaving a very chemical and fade resistant shine. For HEAVY cutting action use MAGIC BUFF TRIPOLI followed with MAGIC BUFF GREEN for a brilliant long lasting shine, to maintain shine use BLU CHIP by hand or machine. Available: 1 lb. and 2 lb. tubs.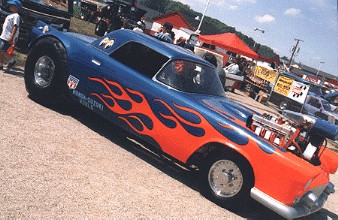 MPC CLEANER-(Clear Red) This is a highly concentrated and extremely powerful cleaner able to leap tall buildings in a single bound! No kidding, This is potent stuff. As an example, at 5 to 1, you can de-grease your engine. At 30 to 1, you can get the kool-aid out of the carpet! Just follow the dilution scale on the bottle, follow the directions and you will find there isn't much this won't clean. Available: Quarts, Gallons, Pails, Drums
DCP-25 This is a specially formulated product designed to remove any and all kinds of waxes, silicones or polymer coatings from the surface to be painted. It will also remove paint oxidation and rust stains from older vehicles, reducing sanding time. DCP-25 doesn't leave any film. It can be used for rubber moldings to strip silicone without damaging the rubber, to prep vinyl for dying, and to take over spray off most surfaces. Used at 9-10 to one, a gallon is very cost effective. Available: Quarts, Gallons, Pails, Drums
Le Purfume'-(all colors) 11 flavors, all good. Another highly concentrated "All American" product. Pleasant, Sensitive car scents. SL-Sweet Leather (My favorite), NC-New Car (That New Car smell), EF-Evergreen Forest, SS-Strawberry Sherbert, CV-Cherry Vanilla, BP-Baby Powder, OB-Orange Blossom, LL-Lemon-Lime, JA-Jasmine, WA-Watermelon, . Available: 2 1/2 oz. Spray bottle
ALL OF OUR PRODUCTS ARE AMERICAN MADE, ONLY SPEEDY BRIGHTENER HAS SILICONE IN IT. ALL OUR PRODUCTS ARE GUARANTEED TO DO WHAT THEY SAY OR YOU GET YOUR MONEY BACK!
ODORMUTE-C: Highly CONCENTRATED powder (enzyme based) to destroy ANY ORGANIC ODOR. One ounce makes TEN gallons of odor killing solution. This stuff even deals with SKUNK!! You can bath your dog in it. Non-caustic, Non-hazardous, SAFE for pets, kids, fabrics. You could BATH in it! Mix only what's required, the Enzymes only last 4 hours once mixed, A true enzyme product needs food (odor) to survive. Available: 2 oz., 8 oz, and 1 lb. containers.
Still smiling after working all day.




This Stuff MUST be easy!