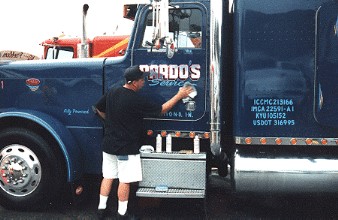 Buffing Wheel Description Chart


Sisal Buffs- Natural woven fiber covered with cotton and spiral sewn; used for steel, stainless, and iron. Fast cutting. Aggressive. Use with Magic Buff Tripoli only.

Spiral Sewn Buffs - Dependable, well balanced, long wearing wheel for coarse buffing and cutting on all materials. Made from white cotton material with continuous spiral sewing.

Canton Flannel Buffs - An extra soft wheel, recommended for all final coloring operations. This wheel will give you the most brilliant finish of all buffs when used with Magic Buff Green.
Loose Section Buffs - An extremely flexible wheel for color buffing. Gives moderate cutting action and is very good for those hard-to-reach surfaces. Made of fine cotton discs joined by one circle of sewing around the arbor hole.
String Buffing Wheel - Bug Guards; side marker, turn signal, & tail lamp lenses: If it's made of hard plastic, this is the ideal wheel to bring it to shiny, like-new condition quickly and easily. Because heat build-up can melt plastic during polishing, soft cotton string buffing wheels are made to run cooler For removing light scratches, this wheel is a must.
BUFFING WHEEL & COMPOUND SELECTION CHART

| Materials | Steel, Iron, Stainless or Other Hard Metals | Soft Metals: Brass, Copper, Aluminum, Die Cast, or Zinc | Chrome or Nickel Plate | Solid & Plated Gold or Silver | Plastics |
| --- | --- | --- | --- | --- | --- |
| Step 1 | | | | | |
| Compound | Emery | Magic Buff Tripoli | Do Not Cut | Do Not Cut | Blu Chip |
| Buff | Sisal | Spiral | | | Spiral or String |
| Step 2 | | | | | |
| Compound | Magic Buff Tripoli | | Magic Buff Tripoli | | |
| Buff | Spiral | | Spiral | | |
| Step 3 | | | | | |
| Compound | Magic Buff Green | Magic Buff Green | Magic Buff Green | Magic Buff Green | Blu Chip |
| Buff | Loose Section | Loose Section | Loose Section | Flannel | Flannel or String |
| | | | | | |
| | | | | | |
| | | | | | |